Technitium DNS Server
Never use the hosts file again!
Version 1.2.3 (beta)
Windows
(.NET Framework v4.6.1 or higher)
Windows / Ubuntu Linux / macOS
(.NET Framework v4.6.1 or Mono Framework)
Windows / Ubuntu Linux / macOS
(.NET Core 2.0 or higher)
File Details
SHA1
F6C39FECDB687678385976DB85B8F79624D1B9C8
SHA256
A50E5B332016D358CB32E963A029390BACD7A310A9C309297D5338D1EAD3A6EF
Name
DnsServerPortable.zip
SHA1
7927EC6DEC88E1F46DBFACB84C6987FE0849DCD8
SHA256
2E8AD8A27E23DC35A258BFB3EFD999605060AAFFF721AAC2612C85E3EAD7C00E
Name
DnsServerPortable.tar.gz
SHA1
F963CFA1CB797280CD49A1A106805D44EDEF6683
SHA256
B48151E7C585BCA4E05D019E348B4B3A9E170E342E6C1FF237B0E94D43B922D6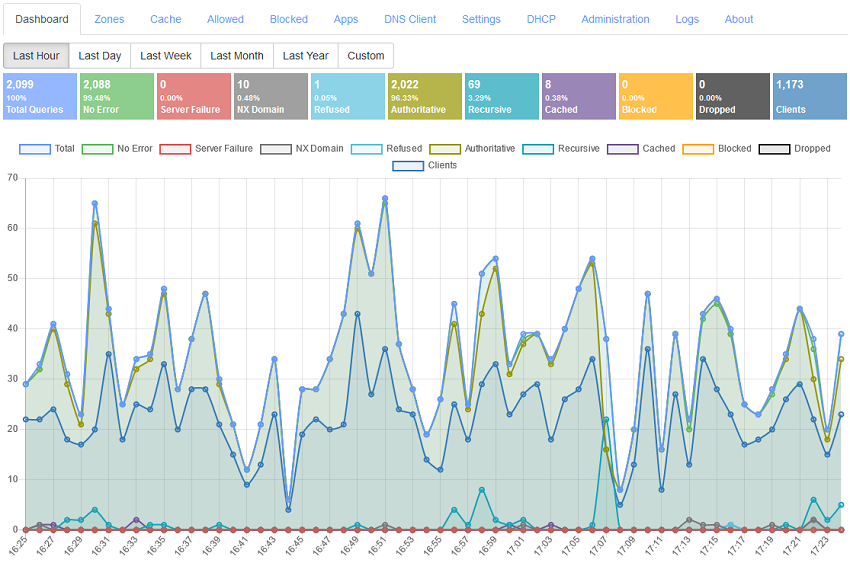 Technitium DNS Server is an open source tool that can be used for self hosting a local network DNS server or, used for experimentation/testing by software developers on their computer. Traditionally, developers use an hosts file for configuring an IP address for a domain under testing. However, using hosts file is cumbersome at times and can only be used to resolve domain name to an IP address.
With a fully configurable DNS server running on your local machine, you can configure not just simple A records (for IP address) but, also configure other types of records like CNAME or MX etc. This allow you to have more control and power when you want to do testing that simulates the exact configuration that you have running on production.
Applications of using a locally hosted DNS server is limited only by the user's imagination!
Features
Fully manageable local DNS server.
Wildcard sub domain support.
Disable/Enable hosted zones for quick switching between staging & production.
DNS Client tool for resolving queries.
Import records feature allows to import records of live domain using DNS Client
Web console for allowing access over network.
Recursive querying support.
DNS caching with cache browser interface in web console.
Forwarders setup to allow chaining other DNS server to reduce response time.
IPv6 network support in DNS server core for querying.
Built-in system logs and query logs.
Cross platform implementation for running on Linux or macOS using Mono Framework or .NET Core.
How To Get Started
Download and install the DNS server Windows service setup. You can use the portable zip/tar.gz file too by extracting and run the DNS server app.
Open http://localhost:5380/ on your favourite web browser.
The web console will auto login using default username 'admin' and password 'admin'. Don't forget to change the password to disable auto login!
Add one or more domain names as zones and configure recource records for them. Or, use the DNS client and quickly import records into local DNS zone!
Optionally, add forwarder DNS server IP addresses in DNS Settings so that the DNS server uses them to resolve requests instead of root servers to improve response time. You can configure any public DNS server like the one provided by your ISP, your router, Google DNS, or OpenDNS.
Use nslookup command or built-in DNS client to query the server to test it.
Configure DNS server IP address in the network configuration allowing the DNS server to be used by the system and other applications.
???
Profit!